food, gifts and other nice things
kåseberga fisH - Ahls smokery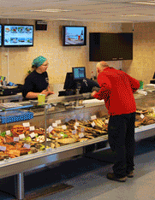 Ahl´s is a fishshop and fishsmokery with traditions.
We offer you 20 different kinds of pickled herring, smoked salmon, stuffed baguettes, salmon burgers and a very tasty herring meal. And of course lots of more delicacies from the sea.
Why not try your fishmeal by the sea close to the waves!

www.kaseberga-fisk.se Visit Ystad & Österlen
kontakt@kasebergafisk.se Facebook
Tel +46 411-52 71 80

kåseberga stone oven bakery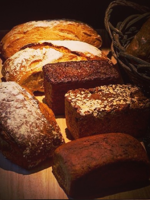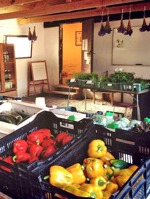 Vegetable farm where we grow strawberries, raspberries, beans and other vegetables in a biologically protected way. You are also welcome to pluck the berries yourself. In April and May our shop at the farm is open between 9-15 Fridays, Saturdays and Sundays. During the Summer Season we are open every day.



kasebergaodlingen@gmail.com Facebook
Mobile: +46 709 66 88 18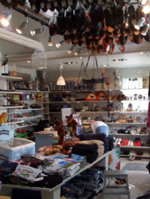 We have a wide variety of souveniers and a lot more connecting to Kåseberga and Ales Stenar. Also clothes and Lotta Mari's wodden clogs in different models and colours.
Welcome to us in Kåseberga Harbour, or to our webshop.



www.lottamari.se
widenbergs@hotmail.com
Tel: +46 411-52 70 70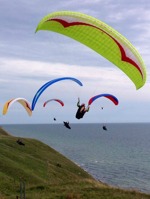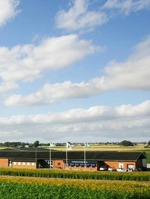 galleries - art and crafts
anker ART - Galleri k i Kåseberga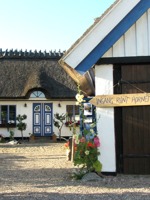 Welcome to "Antikt & Retro" on Kasevägen 5. Many of our items are from an old general store. We have antiques, toys, books, clothes and other curiosities for everyone. Maybe we have what you've been looking for? Hope to see you soon.
royhansson@live.com
Tel: 0721-89 15 23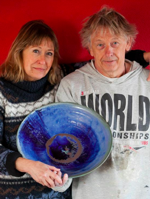 Hand built stoneware for gifts and everyday wear. In-house production. Complete tableware or selected parts. Spices, forging.
Potter Anders Hägg exhibit his unique production of hand built stoneware and porcelain both at his Atelier in Löderup and - during the Summer months - in Kåseberga.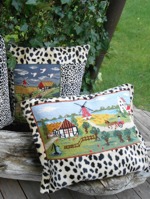 My passion for knitting began when grandmother taught me to knit scarves for dolls when I was 5 years old. Later it became furnitures and clothes to order.
I have a small shop in Kåseberga. Please visit if you are passing by and the 'Open' sign is up!


www.ydupont.se Visit Ystad & Österlen
yvonne@ydupont.se
Mobile: +46 702 46 32 57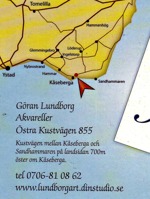 At Galleri Kustvägen water-color paintings, inspired by the fields and coastlines of Österlen are displayed, as well as paintings from the world of jazz and classical music. Creative hands is another favorite motive.




www.lundborgart.dinstudio.se
goran.lundborg@med.lu.se
Tel: 070-681 08 62

Elna-Karin Helgesson, potter. Workshop & Shop. Utility & unique ceramics in stoneware.
Elna-Karin has her workshop and shop in the old court farm alongside the coast road between Kåseberga and Sandhammaren. The ceramics is in the old stable.
www.912kaseberga.se
www.elnakarin.se
Facebook
Tel: +46 411-123 50
- where to shop -
in the vicinity of Kåseberga
Support members of Kåseberga Byalag
- Galleries & crafts -
IN THE VICINITY OF KÅSEBERGA
Support members of Kåseberga Byalag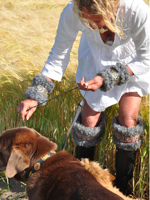 All products are designed and sewn by hand by Charlotta Unger. Sheepskin is from Haväng. Ecological sheepskin from the beautiful landscape Österlen and selected oriental ribbons. You will find my Atelier and Shop on the Coast Road between Kåseberga and Sandhammaren.

www.handmadebycharlottaunger.se Visit Ystad & Österlen
unger.ch@telia.com
Tel: +46 705 88 38 31

Staffan Håkansson is an artist, living in Peppinge. You find his Gallery and a B & B about 2,6 kms north of Kåseberga. His sensitive photography shows the light, shadows and shapes of Kåseberga and all the hidden and exiting wievs of Österlen.
A photografer with a strong personal touch!
www.rapsbollen.se
Facebook
info@rapsbollen.se
Visit Ystad & Österlen
Tel:+46 411-52 66 29