Kåseberga - a very special village
a picturesque fishing village
Kåseberga is a picturesque village which offers its visitors a rich and varied experience.
Below the steep cliffs rising above the Baltic Sea, you can buy fresh and smoked fish in the smokery. Or, experience culinary treals with locally sourced produce in different price ranges, from early breakfast until dinner.

Kåseberga has lot else to offer, whether you would just like to take a walk around a well kept fishing village, eat local food, often organically grown, in our restaurants, visit galleries, do some birdwatching, paragliding, fishing, surfing, or perhaps hike along the coast.
ample parking space - but not everywhere
During the tourist season an unmanned Information facility can be found at the large parking place - free parking - at the entrance to the village.

Kåseberga's roads are small and tight, and there is only one road leading down to the harbour. Therefore parking during the holiday seasons is difficult in the harbour, but ample at the entrance to the village. Parking guides are posted in Kåseberga during the summer months to assist visitors to avoid traffic jams. We would highly appreciate it if you follow their advice.
the only harbour between ystad and skillinge
Kåseberga harbour has a capacity of about 20 vessels. Free Wi-Fi available in the harbour.
Visiting boats can pay the harbour fee in the parking meter at the parking place in the harbour. More information for boat owners



TWO museums & an ART HALL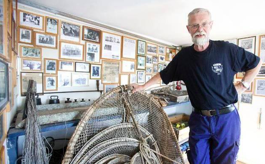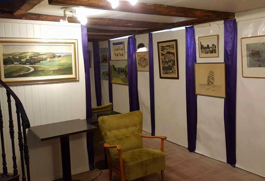 Learn more about the history of kåseberga
At the harbour you also can enjoy visiting the unik and interesting Ola Ahls museum, with memorabilia from Kåseberga's past.
Visits are free of charge.

The Museum is open summertimes, and closed 1 October - 1 May. But special viewings are possible if you contact Ove Söderling 073-085 86 44.



Kåseberga Art Hall - a collection of older paintings, created and painted in Kåseberga and the neighborhood.
Visits are free of charge.
in kåseberga one's soul can rest and be inspired
The unique light and the majestic landscape, not least the cliffs facing the sea,
have always inspired every single people who visit this place.
So many poem and pictures has been created here!

Art remains an integral part of Kåsebergas life. Artists and artisans still find inspiration here, and some of them live and work in the village. You will find the addresses to some of them under Shops/Galleries.


Live in Kåseberga - work in Malmö, Lund or Copenhagen
Kåseberga is a very beautiful place to live in. We have an active society, with lots of activities for us locals during the whole year. We are about 120 inhabitants, and there is a trend for both eldery and young couples with children to settle down here, because of the quality of life that Kåseberga offers. We just love our Kåseberga - and if you want to settle down here, you are very welcome!

Communications are good, making it possible to work in Malmö, Lund or Copenhagen and live in Kåseberga. All these cities are roughly an hour's ride from Ystad. Some commute this way already. The train from Ystad (or Köpingebro) departs serveral times an hour to Malmö and Lund, and every other hour to the Danish capital and to Copenhagens Airport Kastrup. Not bad, we think!

Free wifi in kåseberga harbour
In Kåseberga Harbour you can access Ystad's free wi-fi. Log on to 'Ystad Guest' and register temporarily. Once done, you are welcome to use this connection, which is free of charge.